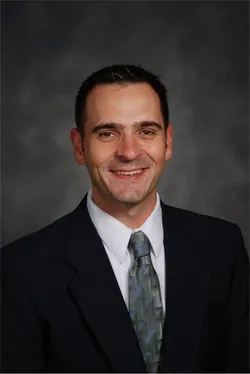 Dr. Daniel Jones, Chiropractor
Originally from Freeport, Illinois, Dr. Jones obtained his undergraduate degree in Communications from Eastern IllinoisUniversity in 1999. After venturing into Chicago to start a career in sales, Dr. Jones realized his true purpose was that of trying to help those in need. Having gone to a chiropractor for years, he decided that chiropractic was truly his calling. At this point, Dr. Jones rededicated his life towards that goal and set out to become a chiropractor. Dr. Jones graduated from the Palmer College of Chiropractic in Davenport, Iowa in 2005.
Along with helping the community in the clinic, Dr Jones also tries to be as involved in the community as much as possible. He is a member of Platteville's local Elk's Lodge, serves as a director on the United Way Board, and is also on the board of the Platteville Scholarship Committee. Dr. Jones has a close relationship with the local university (UWP) and works very closely with the trainers and universitys' athletes.
Along with Dr. Joe, Dr Jones has become known for treating all types of of disc issues in the neck and low back utilizing disc decompression. This therapy has given patients the ability to feel complete improvement with their symptoms, when they felt there was absolutely no hope with other forms of care.
Dan and his family (wife Carrie and daughter Adilynn), have thoroughly enjoyed becoming a part of the Platteville community and love calling it home. If you have any questions for Dr. Dan about something that may be affecting your health, he would love to hear from you. Give him a call with any questions.